We're an extremely active club! Check out these pictures and see some of the good things we do.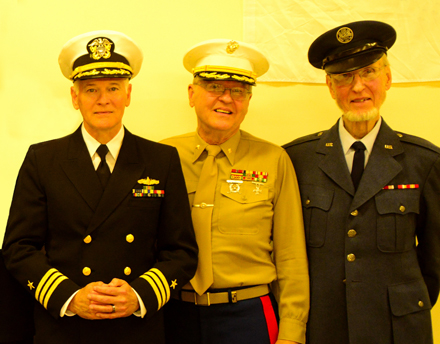 The Annual Veterans Dinner at the Southport Town Hall was another great success. We said thanks to our local vets, Gold Star ladies, Blue Star families, and active duty personnel . Pictured above
Commander Steve Demeranville U.S.Navy, Major Jim Singer U.S. Marine Corps, And Staff Sergeant Frank Hellman U.S. Air Force were the club rotarians attending in uniform.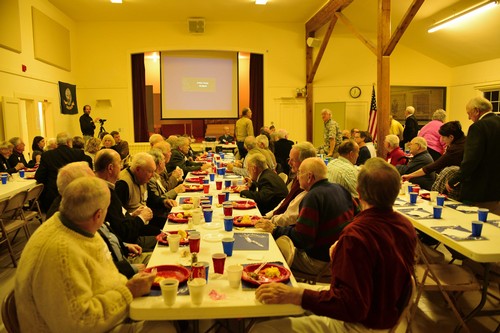 Sept 13, 2012 - Hometown Heroes is our club's response to 9/11: We invite all our local First Responders -- police, fire, EMT, communications, Coast Guard regulars and reserves, and Red Cross -- plus their families for an indoor picnic of burgers and dogs. This year responders brought their fire and rescue trucks, ambulances, boats and gear to bring awareness to the supporters attending the event. The venue was the American Legion Hall . Children were invited to learn and play . It was a great evening of fun and support.
The Service Above Self award is the highest honor that an individual Rotarian can receive, and it goes to someone who has done tremendous humanitarian service. John Dennen (above right) of Brunswick Coastal received this award from RI President Sakuji Tanaka in July. John visited our club as guest speaker Thursday night, giving an overview of his many projects in Africa which have been supported by Boothbay Harbor Rotary Club, along with many others.
John is shown in the picture above presenting a Paul Harris Award to our club in recognition of Brunswick Coastal Club's appreciation for our early and continued support.
Debbie Graves pictured above receives a Paul Harris Award for her exceptional contribution to the club
July 3 - Steve Demeranville, ShelterBox Ambassador, Sakuji Tanaka,Rotary International President, Scout Master Sarah Sherman and Boy Scout Troop 238 meet after putting up the ShelterBox disaster relief tent during the district change-over event.
Governor Marty Peak Helman hosted RI President Sakuji Tanaka at her Boothbay Harbor home for a breakfast gathering of club rotarians as seen in the two pictures above.
June 14 -- President Jim Stormont presents Judy DeGraw an astonishingly large flowering plant in tribute of her 12 years as Club Secretary. Judy is retiring from that role to become District Secretary in 2012-13.
May 24 -- President-elect Jim Botti congratulates Kayla Vise, this year's winner of the club's Rotary Scholarship. Kayla and all her classmates were hosted at dinner by the club as part of BRHS graduation festivities.
May 19 -- Steve Demeranville displayed the latest Shelter Box tent at the District Conference, designed to house a family of 10 after a natural disaster. Ann had earlier presented on Rotaplast, part of a panel on international service projects.
April 19 -- Curt West receives the Club's 2012 Lifetime Service Award in a tradition that dates back to 1960. Here, MC Robin Reed congratulates Curt.
April 5 - Seth Hedgcock is honored as a Peacemaker by the Rotary District. Here, Judy Speers "pins" Seth while District Governor Gary reads the citation.
April 5 -- Cy Seifert celebrates his birthday at the Clubhouse.
March 15 -- The club surprises Viv Daniels with birthday cake and flowers on her big day. And she's not the only birthday this week -- Deb Graves is also celebrating a big one.
March 8, 2012 -- Steve Francis, long time volunteer and Laura's husband, joins the club while sponsor Bob Pike looks on. Welcome, Steve!
January 28 -- "Geriatric" limbo, dancing, great food and terrific company -- the Tropical Heat Wave dance was a fabulous event and raised $$$ for our local home heating oil fund. Congratulations to Annette and her crew for putting on such a great evening.
January 5 -- President Jim welcomes new members Jean Huber, Brian McGrath and Michelle McLaren -- who joined long-distance so Jim Stormont stood in for her!
December 2011 -- Our own Ann Demeranville (shown here) and Steve Demeranville (who took the picture) participated on a Rotaplast medical mission to Togo, West Africa, to help correct cleft lip/cleft palate deformities.
November 17, 2011 -- Marty Peak Helman travels to West Africa, where she immunizes children against polio and helps fit patients with prosthetic hands. Here, she fits Alfred with a new hand. Alfred, who is in his 60s, lost his hand to a work accident more than 20 years ago.
October 27, 2011 -- The Friends Forever youth -- Protestant and Catholic teens from Northern Ireland -- tell us what it is like to live in an atmosphere of constant hate, and of how they hope to work for peace in that troubled country.
October 20, 2011 -- President Jim welcomes new members Catherine Wygant and Sue Duckworth to the club, while Billy Dodge enjoys the occasion.Catherine is the new executive director of the Boothbay Harbor Chamber of Commerce, and Sue and Billy are cousins. Earlier in October, John Welsh also joined the club, having transfered his membership from Rumford (River Valley).
September 29, 2011-- Dwight and Karen show their form at our club's annual lobster bake, this year catered by Laura and Steve at the Gallery.
September 15, 2011 -- We honor our local heroes at the Hometown Heroes dinner.
August 20, 2011 -- We bring New England Patriots alumni to town for a flag football game against our own Hometown Heroes (led by Chief Bob Hasch, quarterback). The game is preceded by a football clinic for the kids. Everyone has a great time, plus the money earned will go toward the Hometown Heroes fund and other community needs.
August 6, 2011 -- The 2011 Auction and Flea Market is a smash success, with tremendous participation from both the club and the community. The weather is great, the crowds are greater, and the money earned makes up half of what we have to give away each year.
July 14 -- President Jim Stormont presents Craig Tukey and Mike Pollard with Paul Harris Fellowships, which testify to their ongoing financial support of the Rotary Foundation. The Rotary Foundation is the non-profit arm of Rotary International, and makes possible all the humanitarian work that Rotary does, both here at home and across the world.